Report on the OWAC Systems Conference on the 31. of October 2019
On September 26th 2017 national television network TeleCuracao did an interview with Omega Engineering CEO Anthony van Sprang, in view of his nomination for the title ENERGY ENGINEER OF THE YEAR 2017 LATIN-AMERICA. Reporter Belkis Osepa wanted to know all about Anthony's invention OWAC, which has been operating succesfully for three years now in the Finance Building in Curaçao.

PRIME MINISTER CURACAO CONGRATULATES VAN SPRANG
On October 3rd 2017 the Curaçao born and raised Enery Engineer of the Year 2017 for Latin-America Tony van Sprang got honoured today for his award by Prime Minister Eugene Rhuggenaath. He was invited to his office to relate about his achievements in his work, especially about the OWAC System, of course.
The Prime Minister showed huge interest and posed many intriguing questions, which Tony enthusiastically accommodated with detailed replies. For almost an hour the two conversated on a high level and they sparred with the utmost mutual respect, not only on technical matters, but also on issues concerning the future of Curaçao and its people.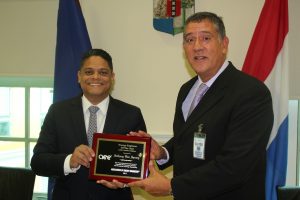 "It is quite funny, but also sad", said Tony. "That the Curaçao people lack self-confidence. They just can't seem to understand that we as inhabitants of such a small island are capable of doing things that are of global interest and importance." Rhuggenaath nodded. "I sure hope that your perseverance and belief in yourself will be an example for all of us, here in Curaçao. We can do great things together, if we put our minds to it, believe in ourselves, work hard and never give up. I thank you on behalf of all 'Yu di Kòrsou' for making this clear. I would say: spread the word."
The Prime Minister was also impressed by the invention of Tony, the OWAC System. "I can imagine that your invention, your product will be of great importance not only for Curaçao, but for our entire region and beyond. I congratulate you with your great work, the prestigious award you gained with it and wish you lot of luck for the near future."
Tony van Sprang was proclaimed Energy Engineer of the Year on September 26. Just after the Award Show Dolfijn FM's DJ Maarten Schakel did a live radio interview with Tony.
On Oktober 16th 2017, Curaçao's Prime Minister Eugene Rhuggenaath spoke highly of Tony van Sprang, Omega Engineering and OWAC System on national radio! The Prime Minister had his monday morning session with DJ Joris Reer in his program 'Wakkere Joris'. Rhuggenaath attended the reception Omega Engineering Inc. organised last Saturday in Avila Beach Hotel – Curacao and wanted to give Tony credits once again for inventing the revolutionary OWAC System.
MORU BON DIA!
On October 4th 2017 Omega Engineering's CEO Tony van Sprang was the special guest in the popular breakfast show Mòru Bon Dia! from TeleCuracao, the national television station of Curaçao. The hosts Nicole Maduro and Glenn Thomas wanted to know everything about the award Tony won last week – Energy Engineer of the Year – to thus share it with their audience.
In 20 minutes of airtime Tony explained why he had won the award and he elaborated on his revolutionary invention OWAC System. Maduro and Thomas were surprised and impressed by Tony's story and Thomas directly saw the enormous potential of the system. "This is not only of great importance for Curaçao, but for every tropical island on this planet", he said.
Nicole Maduro spoke out the hope that a lot of viewers will learn from Tony's perseverance and belief in himself. "You are an inspiration to us all", she concluded the interview.
The Curacao newspaper Èxtra also reported on Omega Engineering's CEO Tony van Sprang, winning the prestigious award 'Energy Engineer of the Year'.
As did also the newspaper in Dutch, the Antilliaans Dagblad.

And the most important and well-known of all newspapers – Amigoe – came with a large interview in the Saturday supplement called Ñapa.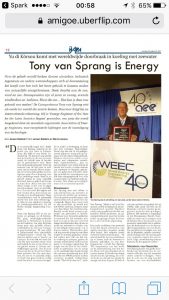 Read the interview here.